For the past seven weeks, Peraton CEO Stu Shea's daily commute has been a 30-foot walk to his home office. Like millions of workers across the world, his normal routine has been disrupted, and hours blur together from morning to evening as he moves from calls with Peraton customers and program managers, to virtual financial reviews and board meetings, and occasional breaks to stretch his legs, catch up on the day's news or make a quick supply run. He often worries that his headphones will become permanently grafted to his ears.
"Although I have been back to the office several times to work on some of our classified activities," Stu says, "I have tried to demonstrate through my own actions that each of us can contend with this new environment we find ourselves in through perseverance and agility."
Despite spending nearly two months operating from his home office while leading Peraton, "I don't feel alone," Stu says, "because I know that across the globe, Peraton employees are continuing to serve important national security missions, and doing so many things that others only wish they could do."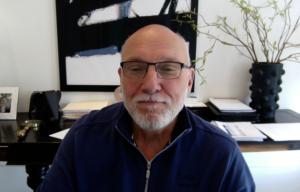 Peraton was quick to respond to the COVID-19 threat. "As a company," Stu says, "we took deliberate measures to protect our employees. Long before it became widely addressed by other companies or many in government, we took dramatics steps. In late January, for example, we started modeling and evaluating the threat to our employees traveling around the world. We began to restrict travel worldwide and required employees who traveled to afflicted countries to self-quarantine upon their return home. It did not take long before we began to restrict domestic travel as well, weeks before the nation went into lockdown status. Despite potential risks to our business, our employees' welfare was more important to me."
But Peraton did not stop at limiting travel, Stu notes. "In February, I established our corporate-wide Business Continuity Team, comprised of leaders from each of our business sectors and functional areas. I charged them with staying ahead of the business curve by evaluating potential employee exposures, customer and contract guidance, facility security and safety, benchmarks, and the ability of our systems to seamlessly support extensive teleworking."
He added, "I also instructed our teams to install as quickly as possible hand sanitizers at our operating sites, and we began repeated cleaning of common surfaces at our sites to try to stay ahead of the virus' spread. We began to encourage and follow social distancing practices, and we launched a comprehensive intranet section that is updated nearly every day with new information, video messages and new resources for employees."
On March 12, Peraton officially encouraged all employees to telework when not required to be physically present in an office or at a customer site. The shift was greatly facilitated by Peraton's award-winning cloud-based IT infrastructure, which is built to securely operate on any device, at anytime, anywhere in the world, allowing employees to shift to working from home with minimal disruptions.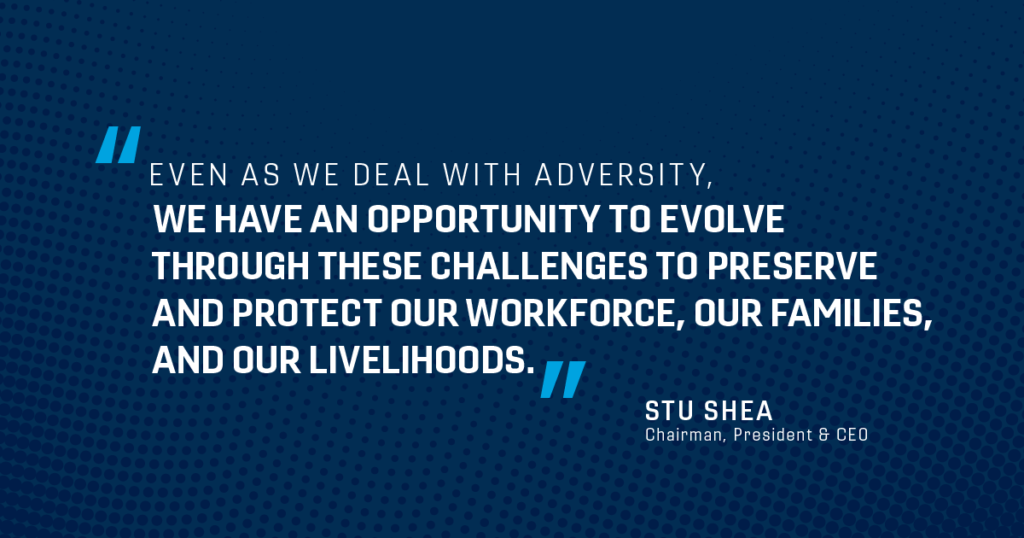 As a company, encouraging Peraton's employees to work from home has been simpler than dealing with all the business challenges Peraton must tackle as hundreds of customers enact differing responses and guidance. "Every day, multiple times a day," Stu says, "our entire leadership team is engaged in active dialog, navigating our way through the unknown. We have tried to anticipate as much as we could. We have concentrated on using this time to make us smarter, more resilient, and more capable as an enterprise."
As a part of a U.S. Critical Infrastructure sector, the Defense Industrial Base, Peraton's work is classified by the federal government as being mission essential, which puts a burden on the company to continue operating at full capacity, but also ensures that contracts remain funded, the company can continue to support its customers' missions, and that every one of Peraton's approximately 3,500 employees can go through each work day knowing that their jobs are secure.
Despite the severe restrictions in the current environment, which have slowed or tripped up many companies, Peraton's leaders have not lost sight of its future objectives even as the company comprehensively responds to present challenges.
"Peraton is faring well through the crisis," says Stu. "As I look at the numbers and at our extensive business development pipeline, I see countless opportunities for us to grow as a company and increase our value as a trusted partner to a wide range of military and civil government agencies. We are not only pursuing new business opportunities; over the past few years, our line and program managers have worked diligently to expand our business organically through on-contract growth. Perhaps the best leading indicator of our promise and potential is the sheer number of new job requisitions that we have in the pipeline today. Peraton is open for business, and we are currently seeking to hire for hundreds of positions throughout the company."
As the company methodically transitions back to a relative sense of normalcy in the coming months, Stu will call on every employee to play a role.
"We will need to muster the energy and passion to address the opportunities that come with those changes," says Stu. "Even as we deal with adversity, we have an opportunity to evolve through these challenges to preserve and protect our workforce, our families, and our livelihoods. I am proud of how our team has responded to COVID-19, and I believe it bodes well for the short- and long-term future of the company."