In 1998, when Peraton's OS/COMET telemetry, tracking and control platform was first offered as a commercial off-the-shelf product for managing satellite missions and ground systems, Carmen was on the team. Twenty-one years later, Carmen, a Systems Analyst working in Peraton's Brevard County, Florida office, continues to be an essential part of the OS/COMET team that has been central to missions and systems in every orbital regime and across the globe.
But before Carmen joined Peraton and its legacy companies, she enlisted in the U.S. Army. Carmen's time in the Army began with basic training at Fort Jackson in South Carolina, which she remembers fondly: "No veteran ever forgets being a trainee. It was an interesting study in human nature and a colorful experience. Rifle marksmanship was my forte, but I've never been asked to use that skill since then!"
After graduating basic training, Carmen was assigned as an Administrative Specialist to now-shuttered Vint Hill Farms Station in Virginia at the headquarters of the Army's Electronics Materiel Readiness Activity, which was focused on electronics maintenance. During her assignment at Vint Hill, she "had opportunities to learn new technology and work with ambitious and knowledgeable people during the dawn of personal computing in the mid-1980s. There were many technology classes and enthusiastic people willing to teach computer skills." Thanks to her military service, Carmen was on track for a lifelong career in computing.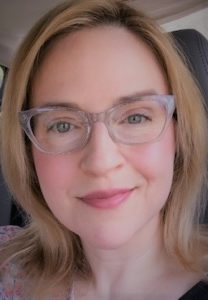 When Carmen left the military, she went to work for a software engineering contractor on Vint Hill, and continued her education by taking evening classes, earning her computer information systems degree a few years later. While she didn't find her transition from military to civilian life to be difficult, the contrast between military and civilian culture did require Carmen to learn to adapt to different expectations, social hierarchies and organizational goals.
Being a non-traditional college student as both a soldier and a civilian ultimately resulted in an opportunity for Carmen to teach an online class through a local college. Many of her students today are active duty, reservists, veterans, or dependents, and she tries to help and encourage them so they can they achieve their own goals.
"Serving in the military taught me the value of esprit de corps and that loyalty extends into supporting OS/COMET and being a part of Peraton," notes Carmen. "I'm fortunate to work with such excellent people and play a small part in endeavors that not so long ago existed only in the wildest imaginations."
Top Photo: Carmen on the range at Basic Combat Training at Fort Jackson…
Bottom Photo: …and today at Peraton.