The missions of multiple Fourth Estate agencies can't wait. Fulfilling the DOD's digital modernization strategy can introduce efficiencies while maintaining critical existing operations.
The Power of Peraton
For more than five decades, we've been working with the DOD to integrate technology, enhance operations and implement new ways of supporting national security.
We reframe problems, outline possibilities and deliver transformational outcomes
Ensuring that technology performs as expected includes having a suite of managed services that simplifies deployment, adoption, maintenance and other areas where challenges arise.
29%
REDUCTION IN TIME
Our process transformation services helped an intelligence agency reduce its test planning cycle time by 77 days, resulting in an average cost aversion of $2.8M a year in labor.
280+
ISSUED, LICENSED & PENDING PATENTS
Nearly half of Peraton Labs' distinguished technical staff are patent inventors, of which more than 125 have Ph.Ds.
50+
YEARS AS A TRUSTED PARTNER
With more than five decades working side-by-side with the government, Peraton has a vested interest in our customers' transformation success.
A comprehensive approach to IT transformation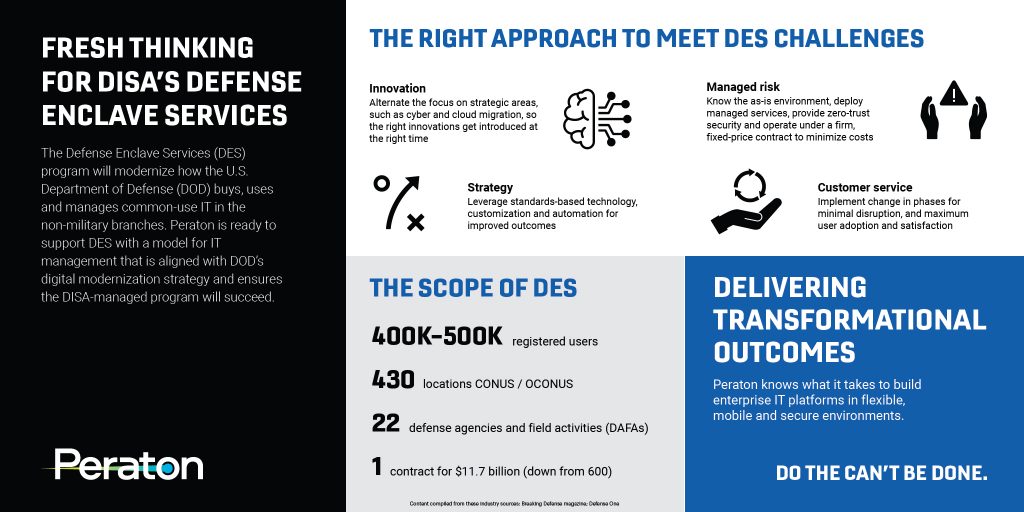 The solution for a military enterprise
Start your transformation journey with us
At Peraton, we seek and we solve. Because we know what it takes to answer our nation's most pressing challenges.