The Tomb of the Unknown Soldier at Arlington National Cemetery celebrates its 100th anniversary this year. Peraton employees were on hand to help members of the public commemorate the occasion.
For the first time in the modern history of the monument, visitors were allowed on Nov. 9-10 to pay tribute to U.S. unknown and missing service members by laying flowers at foot of the Tomb.
One of Peraton's non-profit partners, the Memorial Day Flowers Foundation, honors U.S. military veterans. The Cemetery selected this organization to provide flowers to visitors and Peraton helped make the event possible as a corporate sponsor and source of volunteers.
On Nov. 9, 23 Peraton employees spread out across three shifts to hand out 18,000 flowers to visitors to the Tomb. Visitors also had the opportunity to place flowers on individual graves within Arlington National Cemetery.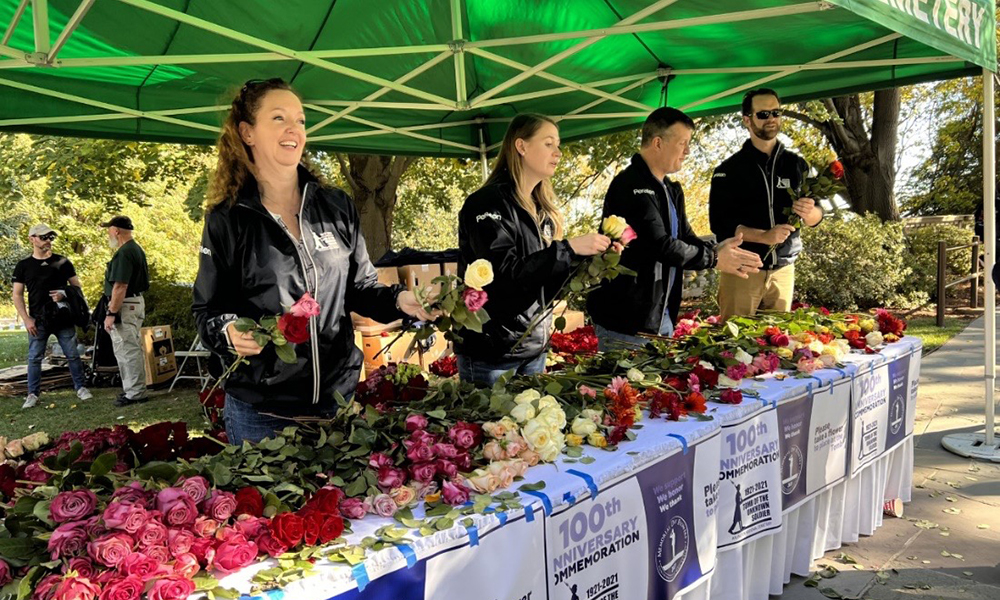 Peraton employees hand out flowers at the Tomb of the Unknown Soldier
The Tomb of the Unknown Soldier contains the unidentified remains of three service members from World War I, World War II, and the Korean War. They represent all unidentified fallen soldiers from these wars and any other war involving American troops. The Tomb is one of the most significant U.S. memorial sites.
"I am proud that Peraton had the chance to commemorate the centennial of the Tomb of the Unknown Soldier," said Army veteran Jason Marquith, chair of VALOR, Peraton's veteran-focused employee resource group. "Nearly 20% of our employees are veterans and volunteering at this once-in-a-lifetime event really emphasized how much Peraton appreciates the veteran community––past, present, and future."
Peraton employees also visited the Tomb of the Unknown Soldier of the American Revolution to place flowers on that lesser-known monument.
Peraton is committed to supporting the military community. Acknowledging the sacrifices made by U.S. veterans is a core element of Peraton's corporate citizenship.
Learn more about Peraton's career opportunities for veterans