Peraton broke new ground, literally, on February 11, 2020 at the site of NASA's new beam waveguide antenna in Goldstone, California. Joining representatives from NASA headquarters, Jet Propulsion Laboratory (JPL) management, and the local community, Peraton celebrated the first step in building the next addition to NASA's Deep Space Network (DSN). Construction of the 112-foot-wide (34-meter-wide) antenna dish will be completed in two-and-a-half years.
Deep Space Station (DSS)-23 will be the fourth antenna at the Goldstone Deep Space Communication Complex (GDSCC) and the DSN's fifteenth operational antenna. These antennas currently communicate with over 30 space missions.
Once completed, DSS-23 will be able to receive laser communications from deep space missions, which are laden with data that NASA interprets and analyzes.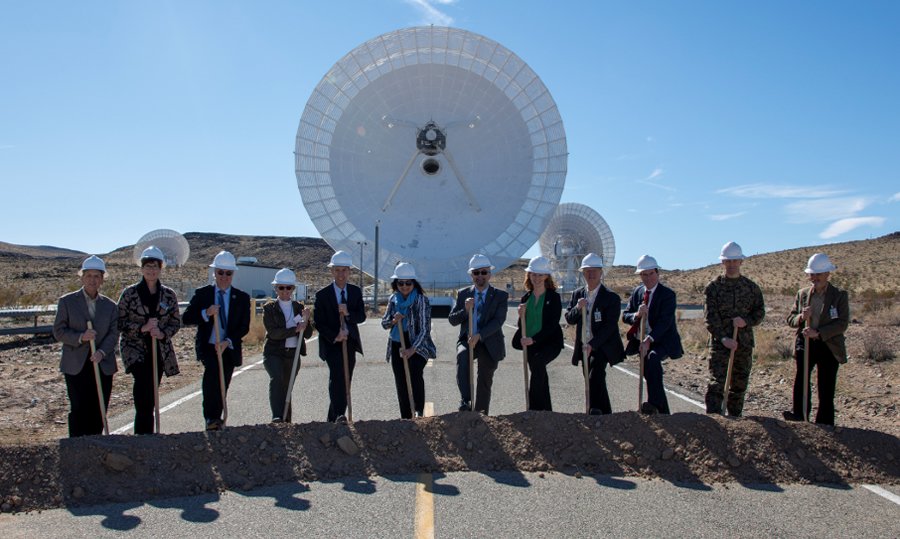 Photo credit: NASA
Peraton is an integral part of the DSN mission, providing operations, maintenance, mission planning, compatibility testing and validation of ground stations and spacecraft, and engineering services. The DSN transmits crucial data and imagery for scientific discovery, and Peraton employees are on the frontlines supporting the men and women of NASA.
As the event host at the DSS-23 groundbreaking event, Peraton provided members of the local community with memorabilia to take home, including blue Peraton beanies for children to wear while they learned about our solar system.
Since 1963, the DSN has been the long-distance telephone operator for outer space ventures. Peraton has worked with NASA's JPL since 2004, including recently on the Juno mission to Jupiter and the Parker Solar Probe to the sun.
The increase in antenna dishes promises increased investigation into the mysteries of the cosmos. Peraton looks forward to a continued partnership with NASA in this exploration.
Help make an impact on the space frontier. Find your next opportunity.