"With more diverse perspectives, we have more innovative solutions to offer," said Laila Salguero, Peraton's Chief Diversity, Equity & Inclusion (DE&I) Officer. "As customers continue to rely on Peraton to develop unique solutions that address their critical missions of consequence, we are increasingly tapping into the diverse set of talents across our workforce."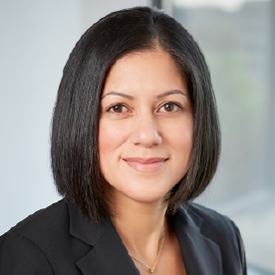 Salguero, Peraton's first DE&I Officer and first Latina senior executive, brings vast expertise and experience to her leadership role with more than two decades in ethics, compliance, risk management, human resources, and process optimization. In the first year of the DE&I function, Salguero engaged in an outcome-driven enterprise listening tour with sector and functional leadership, employee resource group (ERG) and business resource group (BRG) members, and external stakeholders across Peraton's communities.
"We view DE&I as a mission critical element within the organization," said Salguero. "We want to ensure that DE&I is part of our corporate footprint in the marketplace and helps us to capture and retain the best and brightest talent in the industry."
Salguero is driving change throughout the company as a relentless advocate for all employees. She believes Peraton's people are the company's greatest asset and only by listening to our employees and understanding how we can impact their lives can we make a real impact to improve business outcomes. The DE&I function has four ERGs that play a pivotal role in building inclusion across race and ethnicity, gender, age, and experience level. To support women in the company, DE&I launched a speaker's series with trailblazing leaders in the national security industry and initiated sponsorships with the Association of Women in Computing and the Association for Unmanned Vehicle Systems International (AUVSI).
"I am deliberate and focused, approaching every aspect in a purposeful way to ensure concrete outcomes and results," she explained. "I'm encouraged by the support DE&I receives at all levels of the company. Stu Shea and the executive leadership team are fully committed to ensuring that each employee's voice is heard at Peraton. It is a business imperative and a key to our collective success."
DE&I strengthens Peraton's ability to support its government customers. Peraton's business outcomes, customer solutions, and community partnerships are enhanced by the unique backgrounds, perspectives, and experiences that employees bring to the company.
"We are an influential voice in the community," said Salguero. "Peraton continues to recognize and promote the incredible value that is derived from our differences regardless of what those are – each employee brings unique differences and perspectives."
DE&I partners across the organization's functions to expand Peraton's recruiting engagement and create deeper relationships through sponsorships and support of the Black Engineer of the Year Awards (BEYA), Dakota State University's CybHER club, the Association of Women in Computing's HackViolet hackathon, and other community events. Salguero also supports innovative thinking for university recruiting, looking at schools underrepresented in the national security industry and expanding existing relationships. These outreach initiatives help develop a more diverse pipeline and reinforce the message to those communities that diversity is important to Peraton and its employees.
Salguero is also focused on updating internal procedures and policies, such as committing to supplier diversity, developing supply chain partnerships that focus on diversity, and achieving recruiting enhancements that ensure diversity in job requisitions. Salguero works to make Peraton's healthcare and benefits program—as well as education, training, and professional development—more inclusive of what employees need.
"We regularly look at everything we do and try to shake it up, from the language used in job descriptions to the interview process to how leaders conduct performance reviews and evaluate employees," added Salguero.