When U.S. Navy Reserve LCDR Misso was involuntarily recalled to service last year, his initial reaction was shock. He had just started settling into his role as an innovation lead and chief architect for Defense Mission and Health Solutions—his first private sector defense job since leaving military active duty.
"When you come off active duty, you're given a three-year 'dwell period' (think of it like a grace period before another deployment), so I was not expecting it when the call came in before the dwell was even up," LCDR Misso said. "I was really worried that this deployment was going to cost me my job."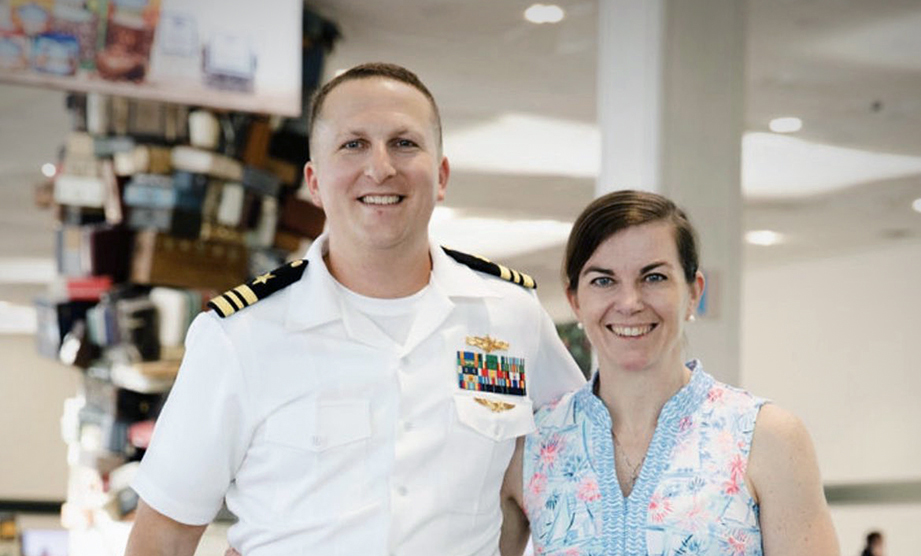 He credits members of Peraton's VALOR employee resource group for the assistance they gave him prior to and during his deployment, as well as the tremendous support from his manager and other leaders within his department. "I left for my assignment feeling reassured my job would be here when I got back."
Photo: U.S. Navy Reserve LCDR Misso and wife
He also can't say enough about the company's benefits. Peraton offers a military differential to eligible employees on approved military leave, paying the difference between military and Peraton earnings.
"It was such a huge burden off my mind knowing my family was going to have the resources they needed while I was away," he said. "This made me feel even more committed to Peraton, because it's not just lip service that this company takes care of its veterans."
Since returning from deployment in June, Roger has been transitioning to a solutions architect role doing some capture work, and assisting with various bids Peraton is pursuing. A transition that's almost effortless when the mission alignment is strong. "Peraton is the first place I've been that feels like parts of the service I loved – people from all kinds of backgrounds coming together to support missions of global impact. I love that we don't shy away from the hard problems."
When he's not working on bringing advanced science and technology applications in AI and quantum science to the government end user, he enjoys spending time with his children and running. Fun fact: LCDR Misso is in the process of running a marathon in every U.S. state! He's 34 states in and has already finished three races so far this year. As a parting thought, he added, "I am proud to work here and if anyone asks, I say I am 'Peraton for life!'"
Visit careers.peraton.com/benefits to learn about what resources are available to both veteran and civilian employees.