Peraton is partnering with DSU on research collaboration to support the national cyber strategy
The team witnessed the signing ceremony between ARCYBER and DSU
"Peraton is committed to ensuring the next generation of cyber professionals will be working in a more dynamic, inclusive environment"
June 26, 2023
---
Peraton is committed to hacking tech's gender gap and creating deeper relationships with underrepresented communities in tech through sponsorships and support of universities.
Senior representatives from across Peraton attended the annual CybHER event hosted at Dakota State University (DSU). This summer camp attracts over 100 female, middle-school students who are interested in STEM, with a focus on cyber, and is one of the keystone events within Peraton's multi-year partnership with DSU. As part of its continued relationship with DSU, Peraton provides scholarships to CybHER attendees. Two of the three scholarship recipients were present at the event and the CISO of Peraton's Defense Mission & Health Solutions sector provided the keynote remarks.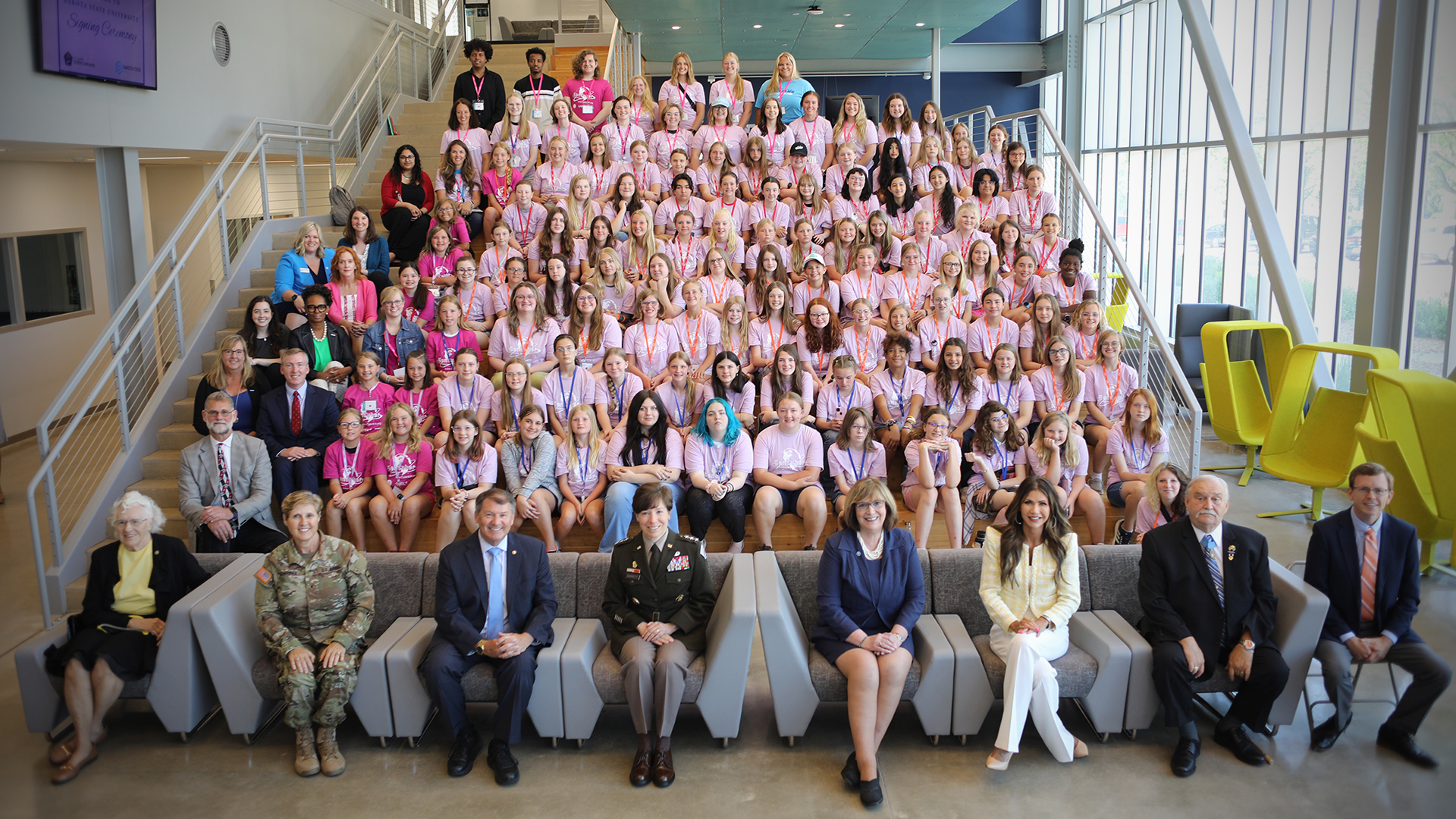 Photo: Kickoff event of the 2023 CybHER Camp
"While the percentage of women in cyber fields has doubled over the past decade, we still have plenty of work ahead of us," said Tom Afferton, president, Cyber Mission sector, Peraton. "Through our strategic partnerships, Peraton is committed to ensuring the next generation of cyber professionals will be working in a more dynamic, inclusive environment."
Peraton is partnering with DSU on collaborative cyber research to support the national cyber strategy executed by federal agencies, including USCYBERCOM, DHS, and ARCYBER. During the visit, the team met DSU President José-Marie Griffiths, Vice President for Research & Economic Development Ashley Prodhradsky, and Executive Director of Applied Research Lab Joel Wohnoutaka.
A longstanding supporter of the university, the Peraton team was on hand to witness the signing ceremony for an educational partnership agreement (EPA) between ARCYBER and DSU.
"Dakota State is leading the new security frontier – which is cyber – and this agreement will provide us with distinctive opportunities to contribute to our nation's security while providing cutting-edge workforce experience for our students," said José-Marie Griffiths, president, Dakota State University.
---
About Dakota State University
Dakota State University (DSU) is located in Madison, S.D. Founded in 1881, DSU offers undergraduate, master's, and doctoral programs through its colleges of arts and sciences, business and information systems, computer and cyber sciences, and education. DSU has a special focus on the development, application, implications, and impacts of computing, information technologies and cyber security in all areas of human endeavor. DSU has received multiple Center of Academic Excellence designations in education, research and regional resource development from the U.S. National Security Agency and U.S. Department of Homeland Security. DSU is home to the Madison Cyber Labs (MadLabs®), a cyber R&D hub with labs and institutes that explore and advance technology application, workforce development, business expansion, economic growth, and policy improvement across multiple disciplines and fields. For more information, contact mediarelations@dsu.edu, 605-270-3816, or visit the DSU website at dsu.edu.