On March 11, Mark Warner, Virginia's senior senator and the Chairman of the Senate Select Committee on Intelligence, hosted a town hall with more than 160 Peraton employees at the company's Herndon headquarters. He shared his thoughts on the state of the world and answered questions from constituents who directly support critical national security missions.
In his remarks, Sen. Warner praised the U.S. Intelligence Community for its exemplary work in Russia and Ukraine. The IC has played a critical role in exposing and highlighting Russia's aggression against Ukraine. He noted that many intelligence professionals have had to operate outside their comfort zone, rapidly declassifying and sharing information that has exposed Russian President Vladimir Putin's intentions. Noting Peraton's support of the Intelligence Community, Sen. Warner told attendees, "Thank you for your work. It is incredibly important – now more than ever."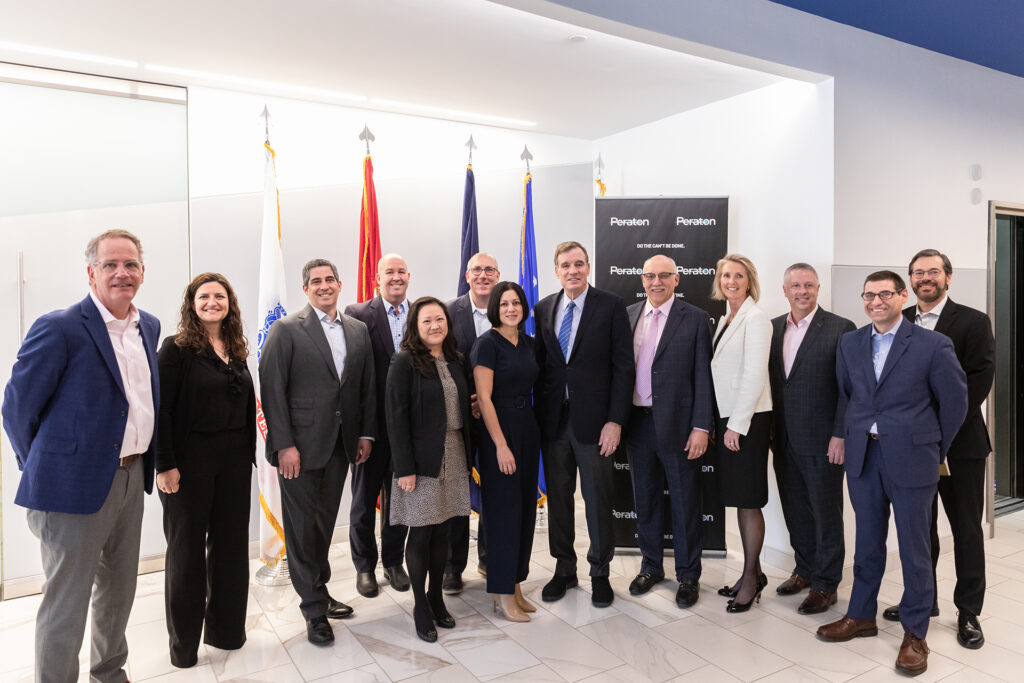 Sen. Warner told employees that Russia was doing more to unite NATO and Europe than anyone could have expected just a few months ago. "For all of the angst we feel [about the state of the world today]," he said, "I absolutely believe that the people of Ukraine are voting with their lives for a taste of the democracy we enjoy here in America. All the basic values we take for granted are what they are willing to die for."
He also praised Ukrainian president Volodymyr Zelensky, saying "he is clearly Churchill in how he has rallied his country and the world […] he is fighting for more than just Ukraine and we need to do anything we can to support him."
During his remarks and lengthy Q&A, Sen. Warner shared thoughts on a wide range of topics:
Cybersecurity
Given Peraton's capabilities across cyber and intelligence communities, the topic of cybersecurity frequently resurfaced throughout the conversation. Sen. Warner echoed the surprise employees shared about Russia's lack of large-scale cyberattacks against Ukraine. He cautioned that "we can't be certain they won't escalate on the cyber domain. We do have to expect there will be much more cyber activity against the U.S. and the West writ large. We need to be ready for it, and you guys play a critical role in that effort."
From a transparency standpoint, Sen. Warner said that the United States made an error in not establishing cyber norms when the opportunity was available. He noted that the U.S. rejected international standards in the 90s when the country held the technological advantage. He also noted that currently, only 30% of cyberattacks against U.S. entities are reported which prevents agencies from seeing the full picture. Sen. Warner's bipartisan cyber incident reporting legislation, signed into law on March 11 as part of the FY2022 government spending bill, will establish a mandatory reporting regime to the Cybersecurity and Infrastructure Security Agency (CISA) and allow the United States to see patterns within the cyberattacks. With the strengthening of reporting on cyberattacks, agencies and law enforcement will be better equipped to proactively mitigate digital threats.
Strategic Competition
Sen. Warner told employees that the story of the next decade will be the rise of new technology alliances that could align countries in new ways. These alliances will focus on areas including 5G, artificial intelligence, quantum computing, and the life sciences. "China is not playing for second place, they won the standard-setting battle around 5G" and are poised to compete in areas including artificial intelligence, quantum computing and life sciences. "We need to put our money where our mouth is," said Sen. Warner.
He praised the state of U.S. capabilities in areas including cybersecurity and human intelligence but noted that one area where the U.S. was falling behind was in offensive space capabilities, where it relies on large legacy systems that are not as resilient or protected as the newer systems that China is developing, which are built off commercial concepts and being produced in higher quantities. For this reason and more, Warner said, the U.S. cannot take its eye off the challenge that China presents. "We've never faced an economic challenge the size and scope that China presents," though he went out of his way to note, "our strife is with the Communist Party of China and President Xi [Jinping], not the people of China. Every time we don't make that distinction it plays into Xi's rhetoric that this is part of a large anti-Asian agenda."
Security Clearance Reform
Peraton works extensively on security clearance issues. For the last four years, Sen. Warner has been a leader on security clearance reforms, which have proven to be a much bigger challenge than he anticipated when he first got involved. While the clearance backlog has decreased 75% from its peak, there are still problems, but Sen. Warner believes the federal government is on the right path. He told employees that there needs to be greater clearance reciprocity, especially in polygraphs, so that clearances can more easily be moved between contracts or agencies. Acknowledging several ongoing hurdles, he said "We keep making pronouncements on these issues, but there is no single legislative thing we can do beyond constant attention."