Peraton played a critical role in supporting NASA's efforts to deliver the Perseverance rover to Mars. Peraton employees continue to support the Mars 2020 mission and will continue to support future deep space endeavors. Beyond Mars, Peraton has spent decades working on other missions in pursuit of scientific understanding, technology research and development, and expanding the limits of U.S. space capabilities.
Here are some of Peraton's notable space technology projects:
---
Flying Balloons and Sounding Rockets
How did the universe begin? How are stars formed? How fast is the universe expanding? What is dark matter and dark energy? What is the physics behind sunspots and solar wind?
Humanity's biggest questions are researched by large scientific balloons, which are 396 feet tall, made of a thin plastic material, and fly to an altitude of 120,000 feet carrying payloads of up to 8,000 pounds. Peraton employees have been working on planning balloon launches, flight management, field operations, engineering services, quality control, and research and development of these balloons at NASA's Columbia Scientific Balloon Facility (CSBF), founded in 1963. CSBF has been managed by NASA Goddard Space Flight Center's Wallops Flight Facility for nearly 40 years. The Peraton team has supported the NASA Balloons Operations Contract (NBOC) since 2015.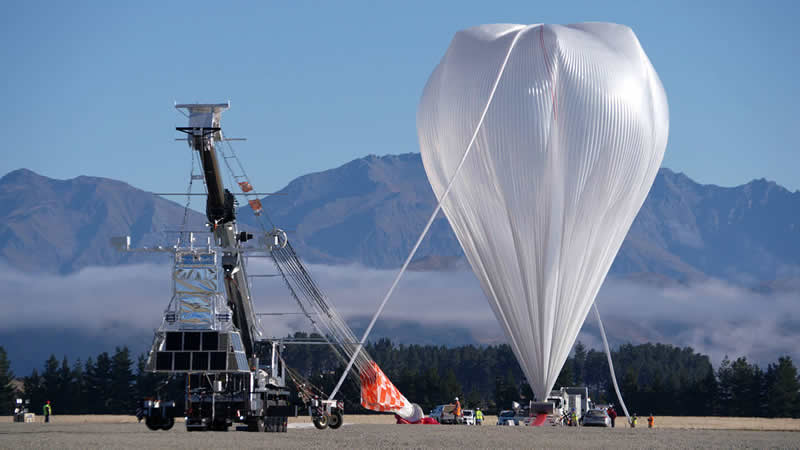 Photo credit: NASA
Scientific balloons are low-cost and reusable with a quick response, as compared with orbiting satellites. Missions last from days to months, depending on the amount of data needed, with worldwide launch and recovery locations. The team has launched over 2,000 balloons.
"Almost everything you can imagine, we've done or at least thought about doing," said Dwayne Orr, NBOC Chief Engineer with a 32-year career in scientific balloons.
"It's a dynamic and challenging field, certainly more complicated than people might think. We are pushing on all the edges of engineering—it's inspiring work helping to figure out our universe, the cosmos we live in, and our creation."
Peraton also supports another suborbital science research project: sounding rockets.
Founded in the late 1940s, the sounding rocket program aims to answer profound scientific questions: how escaping radio waves impact weather monitoring satellites, how many stars exist, what the sun's magnetic field looks like, and how much helium is in the atmosphere. These examples are all experiments conducted just in the last year.
Peraton employees integrate complex customer payloads and other mission systems into the sounding rocket flight vehicles using rocket motors and multi-stage configurations to achieve trajectory requirements ranging from 80 to 2,000 kilometers, often for multiple customers on a single flight vehicle. These sounding rocket science windows last a few minutes and are a low-cost way to test technology that can then be used on larger future missions.
The Peraton team also supports infrastructure services, range schedule coordination, hazard assessments, flight component procurement, hardware design, field operations, data handling for payload instruments, and systems engineering tasks.
Peraton has served as the prime contractor on the NASA Sounding Rocket Operations Contracts (NSROC) since 1999, supporting nearly 500 successful missions. The sounding rockets work has three focuses: heliophysics, astrophysics, and technology development for government purposes.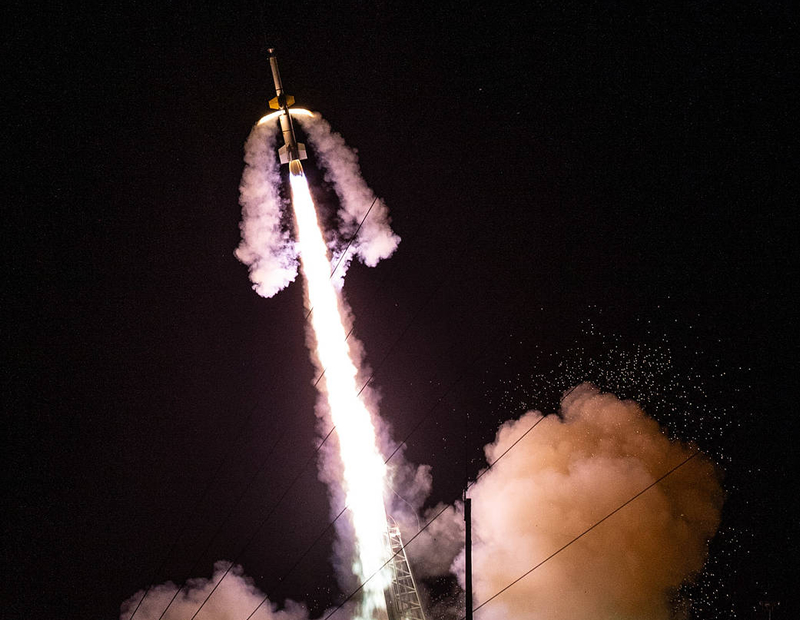 Photo credit: NASA
The NSROC work has spawned other efforts in other U.S. government programs, such as hypersonics testing. The biggest challenge in a hypersonic vehicle is propulsion and developing a successful payload—using sounding rockets to hone that technology is a natural connection.
---
Building Space Flight Hardware
One of Peraton's largest NASA contracts is with the NASA Goddard Space Flight Center (GSFC) Environmental Test and Integration Services (ETIS). ETIS falls under the GSFC Engineering and Technology Directorate's Mechanical Systems Division in Greenbelt, Maryland. The Peraton ETIS team has comprehensive aerospace, manufacturing, and operations capabilities.
Peraton employees test every instrument and spacecraft that GSFC builds, perform mechanical integration and testing of spaceflight hardware, manage information systems, run the machine shop, build harnesses and cables, and create ground support equipment and thermal blankets. Peraton employees also comprise the maintenance staff and operate all GSFC cleanrooms for contamination control.
The environmental test and integration facilities are one of the most complete and comprehensive space hardware test complexes within the U.S. government. Peraton ensures spacecraft and flight experiments will withstand the rigors of launch and operate properly in the space environment. Testing services include space simulation testing, structural dynamics testing, electromagnetic and EMI/EMC testing, and optical integration testing.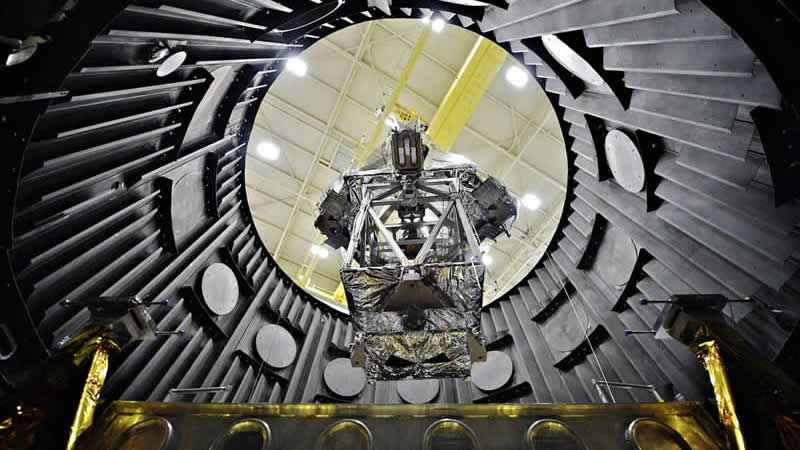 Photo credit: NASA
The Peraton team supported the build of the James Webb Space Telescope and continues to support the hardware as it moves through the final phases of integration and testing. Many ETIS team members will travel with this hardware out to French Guiana and provide support up through final closeouts of the Ariane 5 rocket.
"We get to build and test some of the greatest and most advanced space flight hardware that will ultimately benefit mankind for generations to come," said Lance Emery, ETIS program manager.
---
Spacecraft Engineering for the U.S. Navy
Peraton has supported the Naval Research Laboratory's (NRL) Spacecraft Engineering Division (SED) and Naval Center for Space Technology (NCST) for nearly 35 years on five successive contracts, providing research and prototype development of spacecraft electronics and systems. Peraton employees support the designing, building, materials purchasing, testing, integration, operating, and launching of satellite elements, along with space-grade manufacturing. The team has built and supported nearly every instrument and spacecraft designed by SED over this period.
"We're currently working on one of the most interesting and complex space systems that I've ever been involved in—and I've worked here for 55 years," said Michael Keeton, Peraton's NRL Program Manager. "It's a robotic payload that is going to launch into geosynchronous orbit in the next two years and reside there, performing inspections and potential repairs of on-orbit spacecraft. The mission is sponsored by DARPA with the possibility to sell satellite repair services commercially."
Peraton provides infrastructure support to NRL scientists within an integrated product team of developers. This synergistic relationship between NRL and Peraton allows Peraton to keep up to date with leading edge and emerging space technologies while helping NRL achieve all its space mission goals, not missing a single production day even during the COVID-19 pandemic.
"It's a great feeling to contribute to something so important," said Keeton.
---
Supporting Flight Simulations
The NASA Glenn Research Center (GRC) in Cleveland, Ohio and the Neil Armstrong Test Facility in Sandusky, Ohio have specialized research and testing facilities that can simulate flight conditions both on Earth and the harsh depths of the solar system.
In April 2020, Peraton won the Glenn Engineering and Research Services (GEARS) contract as the major subcontractor to HX5. Peraton successfully onboarded 72 employees, transitioning from the previous contract without any delays.
"We completed our first year under the GEARS contract, continuing to provide highly valued support to many GRC objectives and projects resulting in very high customer satisfaction ratings throughout this period of performance," said Paul Lesiak, Peraton's GEARS site manager. "It is a true honor and privilege to have had the opportunity to support this mission for over 42 years."
The Peraton GEARS team provides engineering and design support to all GRC facilities, including maintenance, customer project integration support, new construction planning and oversight, managing engineering systems and standards, and updating and creating new drawings in support of facility upgrades and new project development activities. The team's IT specialists support the GRC Data Center and help with strategic planning, procurement preparation, installation packaging, and more.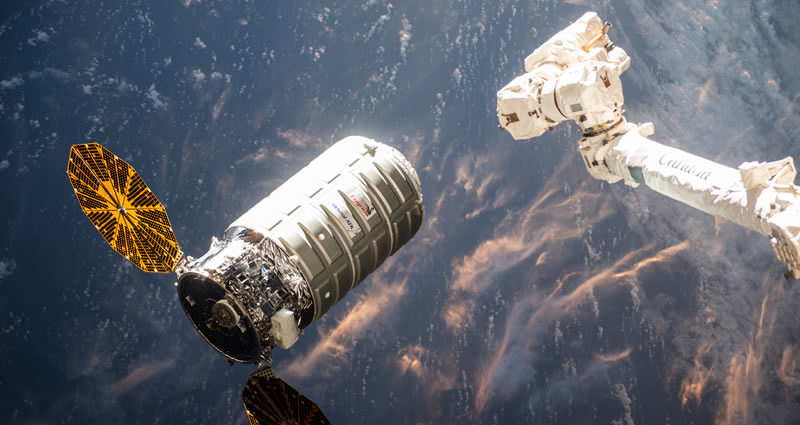 Photo credit: NASA
The Peraton team has highly skilled project management specialists that provide project scheduling and data analysis to a variety of space programs at GRC. The NASA Spacecraft Fire Safety (SAFFIRE) experiment that flew on Cygnus was supported by one of Peraton's senior schedulers.
"I'm looking forward to the coming years of the GEARS contract knowing that whatever challenges come our way, we will persevere," said Danelle Fogle, Peraton's GEARS Project Support Division Manager.