Dr. Chinn, a retired U.S. Navy rear admiral and former Joint Staff Surgeon, is Chief Medical Officer of Peraton's Global Health & Financial Solutions sector
The Defense Health Board provides independent authoritative advice to maximize the health, safety, and effectiveness of the U.S. Armed Forces
Peraton has decades of experience supporting health IT missions and programs at government agencies
Aug 15, 2022
---
Dr. Colin Chinn, Chief Medical Officer of Peraton's Global Health & Financial Solutions sector, has been appointed to a four-year term on the Department of Defense's (DoD) Defense Health Board.
Dr. Chinn, a retired U.S. Navy rear admiral, is the former Joint Staff Surgeon, where he served as chief medical advisor to the Chairman of the Joint Chiefs of Staff.
The Defense Health Board is a Federal Advisory Committee to the Secretary of Defense that provides independent advice/recommendations on matters pertaining to:
DoD health care policy and program management

Health research programs

Requirements for the treatment and prevention of disease and injury by the DoD

Promotion of health and wellness within the DoD and the effective and efficient delivery of high-quality health care services to DoD beneficiaries

Other health-related matters of special interest to the DoD
The mission of the Defense Health Board is to provide independent authoritative advice to maximize the health, safety, and effectiveness of the United States Armed Forces.
Since Dr. Chinn joined Peraton, he has leveraged his experience in operational medicine, public health, global health security, TRICARE, and the Defense Health Agency (DHA) to identify emerging and future trends in healthcare, maximizing Peraton's growth potential in the federal health IT marketplace.
Dr. Chinn is currently focused on helping customers within the Department of Health & Human Services (HHS), Department of Veterans Affairs (VA), and DHA promote a better healthcare experience, identify ways to reduce healthcare costs, and improve quality throughout the healthcare life cycle.
His extensive experience combined with Peraton's innovative solutions centered on digital transformation and modernization capabilities help health focused agencies achieve mission success.
Peraton has decades of experience supporting a wide variety of health IT missions and programs at government agencies including the VA, DHA, Centers for Disease Control and Prevention (CDC), Centers for Medicare and Medicaid Services (CMS), and the Social Security Administration (SSA).
---
More on Colin Chinn, MD, MHS, FACP: 
Dr. Chinn provides medical advisory support in the design and implementation of complex technical solutions for commercial, military health and federal health organizations.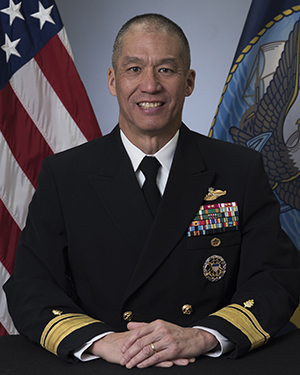 Dr. Chinn served over 38 years in the U.S. Navy, retiring as a Rear Admiral in 2019. During his time on active duty, he served in multiple clinical, academic, research, operational and executive medicine leadership roles.
As the 14th Joint Staff Surgeon, he coordinated all issues related to health services to include operational medicine, global health engagement, force health protection and medical readiness for the Chairman of the Joint Chiefs of Staff.
Other highlights included command of a Naval Hospital, 3 tours with the U.S. Marine Corps, Director of TRICARE Region West, 10th U.S. Navy Medical Corps Chief, U.S. Pacific Command Surgeon, DHA Director of Research & Development and DHA Acting Deputy Director.