Peraton employees supported the North Atlantic Treaty Organization's (NATO) Baltics Operation (BALTOPS) exercise, which took place in the Baltic Sea from June 6-18, 2021. The exercise—in its 50th year—is an annual demonstration of NATO allies' ability to respond in times of crisis.
A large component of the event involved mine countermeasures (MCM), an area of expertise for the Peraton UUV team. Peraton has worked on mine countermeasures since 2004. In June 2021, Peraton won a $250 million contract to provide hardware and software development, as well as in-service operational support, for the U.S. Navy's unmanned maritime systems.
Peraton is the mission capability integrator of record for two sonar technologies: the Small Synthetic Aperture Mine Hunter (SSAM) and the Autonomous Topographic Large Area Surveyor (ATLAS). WHOI has an underwater technology communications and satellite transmitter. Peraton subcontractor SeeByte's Neptune program enables autonomous software for multivehicle operations.
"The autonomous technology Peraton used had a major impact on success of the exercise," said fleet representative Robert Stitt.
The different asset types worked together in a coordinated way with minimal operator intervention. Testing this combination of technologies for an autonomous mission is the culmination of the Dynamic Mariner exercise in 2020 and BALTOPS 2019.
"With the vehicles doing the bulk of the work, we were able to create effective search patterns accurately and according to specs, changing configurations as needed," said Stitt.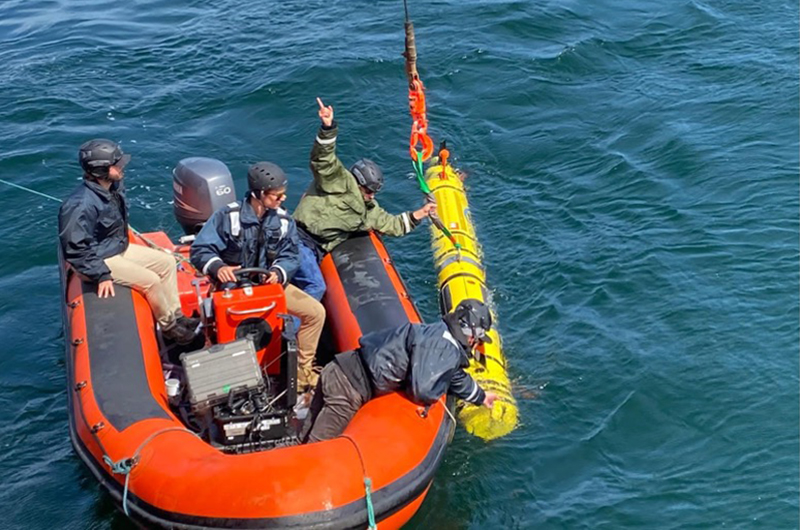 Photo credit: Robert Stitt
"Military exercises like BALTOPS show a wider audience these autonomous capabilities with immediate positive feedback, reinforcing trust in new tools and possibly influencing battle plans," said Peraton's UUV project manager. "Rather than a dull PowerPoint, with BALTOPS customers see Peraton actually performing a constant delivery of success."
Outside BALTOPS, Peraton employees provide expertise to help sailors use new technologies to fulfill missions of consequence in national security. Peraton also oversees software configuration management, then works to promulgate that technology to fleets around the world.