"What keeps me going is that challenge—the challenge to do something new not just for the sake of it, but to be a gamechanger in how things are done."
This is how Peraton's Director of Advanced Technology, Mark, thinks when he comes to the Herndon, Va. office every morning. What may overwhelm most instead excites Mark.
This willingness to get his hands dirty, figuratively, comes from his hands-on background as an engineer and his blue-collar childhood as the son of a machinist. Mark wanted to pursue an engineering career since he was a teenager, already forging new paths by being the first in his family to ever go to college.
After completing a bachelor's degree in electrical engineering and a minor in mathematics followed by a master's in electrical engineering with a concentration in computer engineering, Mark immediately began working on projects that served his country and has been sure to continue that theme up to the present and into the future.
Mark has been able to work on programs "from seafloor to space" throughout his career with a diverse range of customers. The continual learning process is something Mark has never wanted to part with.
A picture of the moon hangs in Mark's Peraton office to remind him of his ten years at Software Technology, Inc (STI), during which he worked on the Clementine Program as a flight software and ground software engineer. Clementine was a moon probe that the Naval Research Lab launched with the cooperation of NASA and the Jet Propulsion Laboratory (JPL). As a small satellite, this was the first foray into the concept of "smaller, faster, cheaper" space systems that are so popular in the commercial space environment today. Mark's team was also the first to put IP data packets in deep space, which is now the status quo for all processing done with satellites big and small. Clementine had a forward chaining inference engine, known as an expert system, which would today be called AI.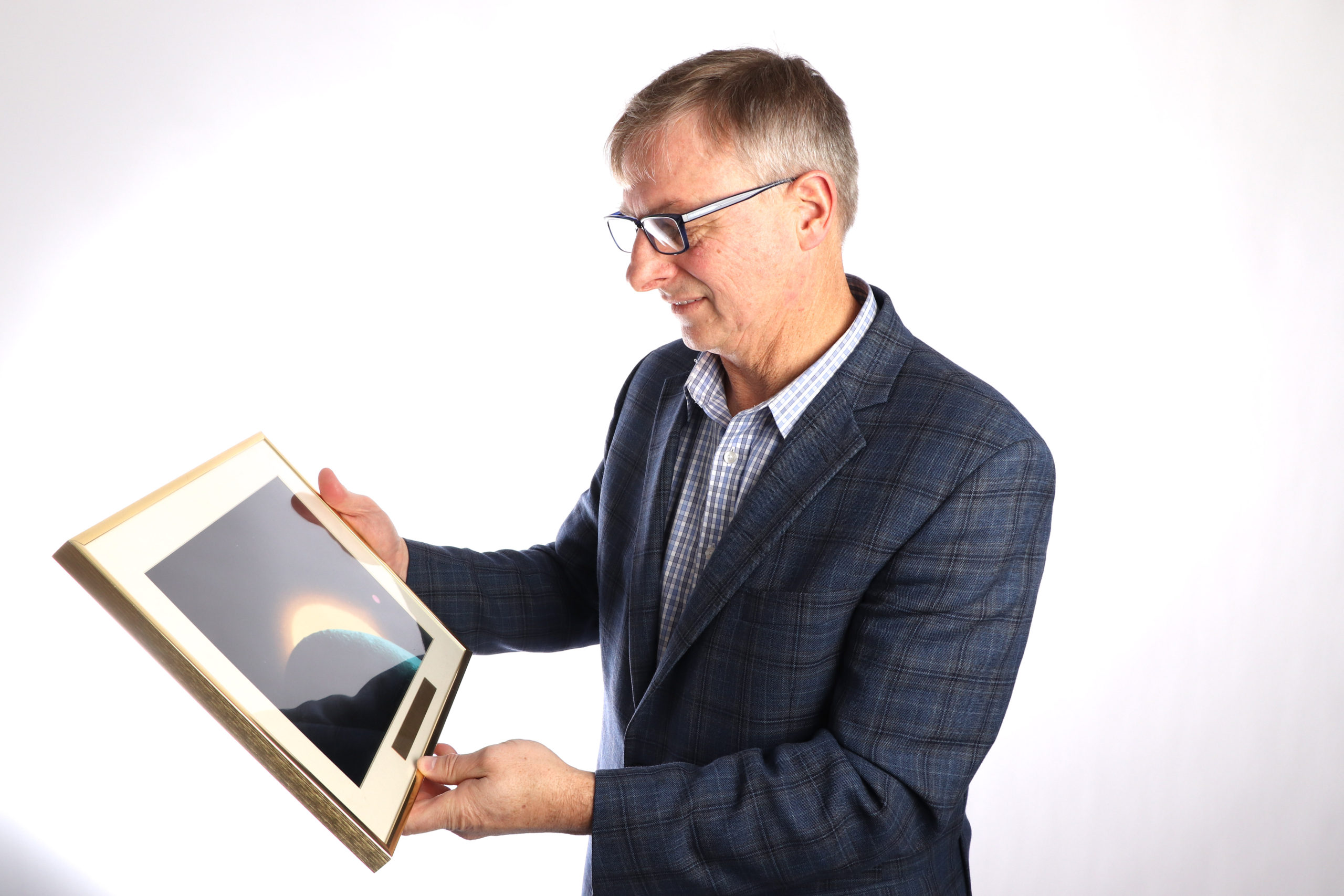 Working on what was "unheard of at the time," as Mark puts it, is exactly the ethos of Peraton.
During a nineteen-year tenure at Northrop Grumman, Mark worked with the New York City Department of Information Technology after 9/11 to develop the NYC Wireless Integrated Network (NYCWIN), a project that focused on how to do a better job of providing public safety officials with real-time information. His team took 3G and 4G technologies from commercial technology providers and paired them with Department of Defense security technologies to create an operational system that's still being used today.
As Mark put it, "We were the first to solve that problem and now it's becoming a commonplace solution. It seems obvious now, but it was not obvious then. Before, the NYC police, fire, and EMS users were totally reliant on radios."
Those mission-driven projects with tangible outcomes in security and operations continue to drive Mark, which is part of how he landed at Peraton a year ago. In that short timeframe, he has already been involved in the research and development of two projects: an integrated, multidimensional unmanned systems control and operations optimization system, and a multi-dimensional data architecture for sensor systems targeted to both physical and cybersecurity missions. Mark has many concepts for solutions with the end goal being "for Peraton to take something from idea to prototype to true implementation."
Mark appreciates working at a multi-talented place where employees have a range of skillsets. He views himself as "the embodiment of an incubator," which is important, "but what I envision doesn't matter if someone can't deploy it and make it work."
Mark views the research and development process as a collaboration between outside of the box thinkers and the true implementors who understand and support the mission. Peraton has both of those types of workers, leading to a holistic team of people trying to make a difference in the defense and technology space by simplifying, integrating, reimagining, and operating in new ways never explored before.
"As long as I have a job where I'm driving toward new ideas," says Mark, "I feel fulfilled."