In the year 2000, Americans dreamt of flying cars. In the year 2020, Americans dream of autonomous cars. Peraton's patented Remote Control Vehicle Retrofit System falls somewhere in between those two goals.
Peraton manufactures and sells a universal set of components that U.S. military customers can install on any type of vehicle to control it with either a joystick or preloaded GPS trails, all from as far as 20 miles away. Tailored to their missions, customers can turn any vehicle that a human can operate into an unmanned vehicle, such as manually shifted Russian tanks and commercial trucks. Other areas where the kit has not yet been used but could apply include ships and airplanes.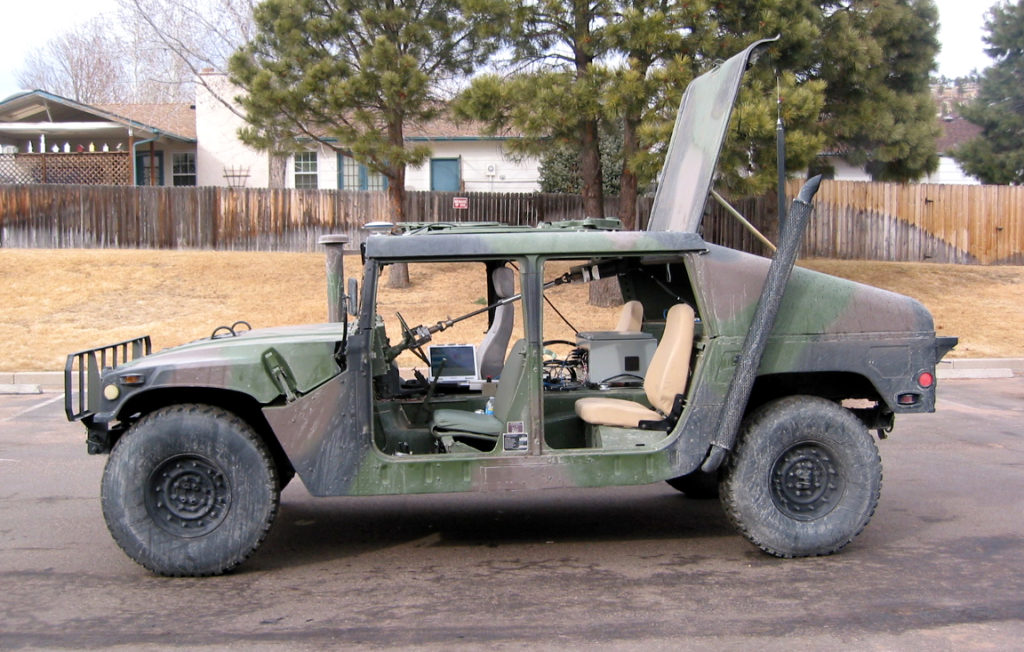 The Remote Control Vehicle Retrofit System is universal and adaptable—the key is not the vehicle that the equipment is strapped to, but rather the custom Peraton software that supplies hundreds of possibilities to the customer. Those can then be implemented using linear movements or rotary movements. These mechanical movements can be tailored by the customer to their needs. The software handles all aspects of the navigational and control processes, such as acceleration and steering. The commercial off-the-shelf (COTS) components are integrated with custom software using standard communications protocols for flexibility and scalability.
The history of this capability dates to 1979, when it was created for developmental use and test support at various U.S. military ranges. Earlier versions of the kit were then used in mine clearing during Operation Desert Storm, missions in Bosnia, and more, as well as during further military testing in Arizona in support of weapon research and development programs.
Creating unmanned vehicles can help protect human lives by eliminating the need for a driver when the chances of the vehicle being destroyed during operation are high. The system is mostly used by customers for target practice rather than tactical operations due to the number of requirements that would be necessary to ensure success. However, the possibility for tactical military deployment exists.
Since the Remote Control Vehicle Retrofit System has to be manually installed onto a vehicle and operated at all times by a controller using a joystick system or a large, custom-built laptop, there is minimal risk of hacking because the unmanned vehicle and operating computers are air-gapped from common networks. When not being manually controlled by joystick, the unmanned vehicle can follow a virtual breadcrumb trail of uploaded GPS coordinates. Additionally, the unmanned vehicle can be programmed to follow a manned vehicle in front of it, and several unmanned vehicles can be synced together, led by one driver at the head of the caravan.
Building a true driverless car seems an unlikely evolutionary path for Peraton's remote control kit. Do not go looking for Peraton-powered cars chasing Teslas down the highway. There are too many unknowns for the purpose of the kit: a split-second unexpected error can cost lives, such as a change in weather, a pothole, a road detour, or an animal crossing. Peraton's software is based on models of road conditions, not real time awareness. The controller still acts as the alert "driver," with providing constant situational awareness and maintaining the ability to change the unmanned vehicle's trajectory as needed.
There are many applications for this Remote Control Vehicle Retrofit System outside of the military. Construction, mining, farming, maritime, and transportation industries could all benefit from being able to turn manned vehicles into unmanned vehicles. For example, if a rescue boat had the kit installed, it could be launched in case of a man overboard and quickly controlled by a crew safely on board the main vessel. Alternatively, if a vessel is taken over by pirates, a boat can be deployed from afar for intelligence, surveillance, and reconnaissance (ISR) missions.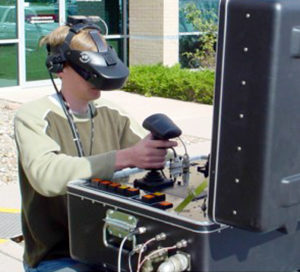 The next big project for the Peraton remote control team is to design a vehicle-mounted infrared target control system, which will lock onto and remain pointed at aircraft as they fly by a target vehicle. Thanks to the manufacturing and machining capabilities at its Colorado Springs office, Peraton will adapt the actuation and control units of the remote-control kit to hook up to infrared control panels, which will then be mounted on the back of trucks. The electro-mechanically controlled panels will remain pointed at aircraft as they fly by. The aircraft will stream their GPS location to the range's data management system, which will relay that position to the Peraton base station in real time, which will in turn relay that information to the vehicle-borne target panel control system, which will adjust the rotation and inclination of the target panels so the panels are pointed correctly.
There are endless exciting possibilities for unmanned vehicles and Peraton is proud to be a part of these missions.
For more information, contact the Unmanned Systems Program Management Office at unmanned@peraton.com.