Meet Petty Officer (PO) Martin. Working in Bahrain, a small island nation in the Persian Gulf, he has the tall task of serving as an unmanned surface vessel (USV) specialist for Peraton's Defense Mission & Health Solutions sector.
Bahrain has long been a strategic location for maritime trade; however, this same importance has made it a potential target for hostile actors seeking to disrupt the flow of commerce.
In his role, PO Martin is responsible for scouring the sea floor to locate underwater mines for Commander Task Force 52, which is a department of the Navy. PO Martin held a similar role while active in the Navy, though he worked helicopters then rather than boats. Although his current mailing address is international, PO Martin's home base is Norfolk, Virginia – home to the world's largest naval station. He credits his time in active duty and extensive knowledge of USVs to helping him land the job with Peraton in July 2021.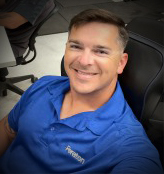 The role in Bahrain appealed to him as an opportunity to "kill two birds with one stone." Working out of the Navy base in Bahrain, PO Martin was able to complete his required military drills for the Reserves while applying his years of prior experience at Peraton. This mutual relationship between transitioning veterans and Peraton is a common thread across customer missions.
Photo: Petty Officer (PO) Martin, unmanned surface vessel (USV) specialist
"Nine times out of ten, the most experienced people are those coming out of the military," said PO Martin. "This takes a niche skillset. It's not as simple as handing someone a textbook on how to do the job."
With technology constantly evolving in an unpredictable world, the continued development and deployment of USVs will play an increasingly important role in protecting the interests of countries around the world. In many ways, unmanned systems will define the future of military missions. Over the next several decades, the Pentagon has plans to invest heavily in unmanned systems, expecting to have over 150 unmanned ships by 2045, and the U.S. is committed to remaining the world leader in the unmanned space. In a rapidly growing industry, Peraton is grateful for people like PO Martin who are skillfully navigating these waters.