In an era of digital transformation and a time of escalating cyber threats, government agencies are faced with two persistent questions. First, how can they obtain an accurate picture of the resiliency of their IT networks? And second, are their current security measures sufficient to protect those networks?
In an ideal scenario, agencies would have access to a training environment that would allow them to test and evaluate the integrity and resiliency of their systems—the actual applications and tools—and be able to learn from a realistic performance analysis prior to implementation.
Fortunately, the types of questions that keep agency IT leaders up at night are the same ones DARPA and the U.S. Army posed to researchers at Peraton long ago. Peraton Labs has worked with Army partners over the past decade to address this gap; the result is CyberVAN™, a high-fidelity cyber range, supporting large-scale experimentation and training.
Think of it as a cyber proving ground.
---
Understanding the Mission
"As cyber is growing, the government needs to train more cyber warriors to respond to what our adversaries can do," said Petros Mouchtaris, Ph.D., former president, Peraton Labs. "Until now, there were no great tools for training that next generation, especially in how to respond to sophisticated threats."
"Many of our customers want to experiment with cyber tools and approaches, but they can't do it with their real systems out of fear they'll disrupt the missions that depend on that infrastructure," said Mouchtaris. "Of course, physically recreating those networks isn't feasible from a cost or resource perspective. They'd like a digital twin, something that can reliably replicate the real-world infrastructure that supports their mission and will enable them to get a truer picture of both their workforce readiness and their network resiliency."
CyberVAN provides a realistic, high-fidelity cyber environment that scales to handle large networks, incorporates wired and wireless networking effects accurately, and provides flexible, easy-to-use libraries and interfaces for users.  This cyber virtual assured network (VAN) environment provides realistic modeling of large, heterogenous networks, including enterprise, military, and hybrid networks.
CyberVAN's fundamental innovation is its transparent forwarding capability, which enables the seamless forwarding of traffic originating on virtual machines (VMs) through CyberVAN's simulated network to destination VMs.
"Our solution provides an infrastructure where customers can use a VM environment or even bring their own hardware and run specialized applications," said Mouchtaris. "It can be a hybrid of emulation/simulation and real stuff. It's quite a realistic environment."
Users can design their scenario with a graphical user interface and access CyberVAN through a web portal to manage deployment and archiving. CyberVAN allocates the required hardware resources for the scenario automatically.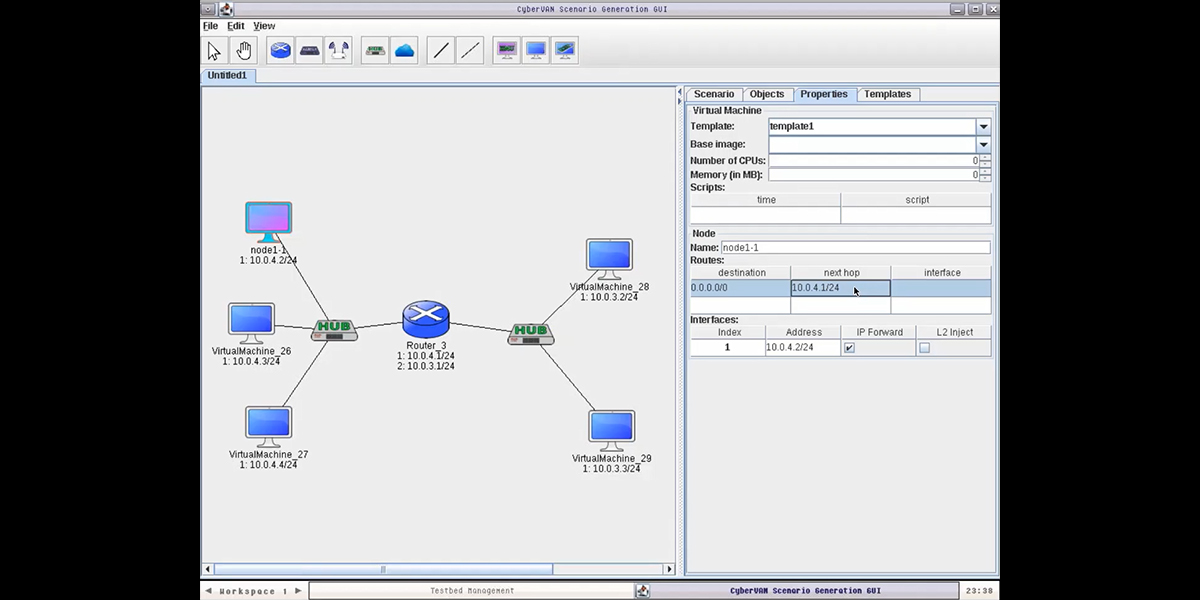 ---
Evolving to meet today's requirements
As CyberVAN evolved from a 'big idea' project to a mature testbed solution, Peraton Labs researchers and engineers enhanced the tool to meet emerging customer requirements and adapt to real-world scenarios, adding in features like the ability to deploy synthetic user bots that can behave like humans—writing emails, browsing the web, etc.—enabling cyber operators to train in a realistic environment.
Another major differentiator is out-of-the-box support for military and commercial waveforms, which are typically implemented in Extendable Mobile Ad-hoc Network Emulator (EMANE) and the ns-3 open-source network simulator. This enables CyberVAN customers to utilize existing models they may have developed or obtained from other vendors, thus leveraging their prior investments.
---
Taking CyberVAN to Space
Inspired by the capabilities of CyberVAN, engineers in Peraton's Space & Intelligence sector are currently developing CyberVAN for Space (CV4S), a significant product expansion focused on the inherent cybersecurity challenges within emerging space networks.
CV4S will be capable of modelling, simulating, and visualizing critical network elements and behaviors, while also generating an expansive variety of network traffic scenarios and use cases for satellite constellations in orbit. It will enable the highest fidelity representation of terrestrial-celestial networks possible, short of launching the real thing.
The creation of CV4S also demonstrates the power of mission-focused collaboration at Peraton.
"We pride ourselves on successfully transitioning the advanced research we conduct and innovative solutions we invent to real-world applications," said Mouchtaris. "Now it's exciting to see how new colleagues are using these applications to take us into new realms."