Handheld Aircraft Wire Tester (HAWT)
Effective, easy-to-use tool for identifying faults in coax, twisted pair, and single conductor wiring on aircraft, helicopters, and ships.
Currently in use in multiple DoD domains and proven as an effective wiring troubleshooting tool, the HAWT is a step Time Domain Reflectometer. Packaged in a lightweight, ruggedized transit case, the HAWT includes a variety of leads, adapters, and other accessories to facilitate testing of the typical wiring and connectors found on military equipment. The HAWT meets stringent environmental and performance specifications for use in harsh environments.
The HAWT is highly-accurate and self-calibrating, requiring no preventive maintenance. It covers a range up to 20,000 feet without the "dead zones" typically found in pulse-type TDRs and reads potential defects in actual ohms. With its easy-to-read backlit LCD display, the HAWT enables users to save, upload, and share cable traces, measure distances between cable events, and create and save custom cable lists and TDR setups using a setup wizard.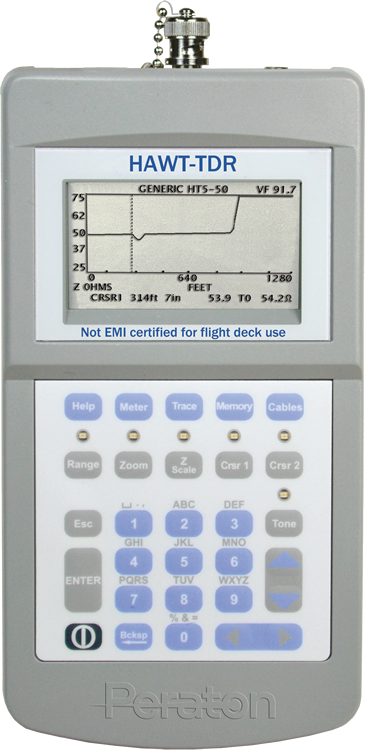 Accuracy
< 0.1% ±1 inch (2 cm) and < 2% impedance
Range
From 0 to 20,000 ft (6,600 m); no dead zones
Impedance range
1 to 1,000 Ohms
Display
Backlit LCD 2.8 x 1.45 inch (67 x 37.5 mm)
Batteries
8 AA alkaline; 7.5 hours battery life w/backlight off
Memory
Stores up to 32 traces and 64 cable types
Size
8.5 x 4.3 x 2.25 inches (216 x 109 x 57 mm)
Weight
2.2 lbs (1 kg) with batteries and belt case
Advanced features
Test lead null, microfault locating, setup wizard, context sensitive help
NSN
6625-01-528-3348