Organizations are always looking for ways to work faster and better. To get there, that means digitally transforming operations and IT and moving enterprise systems to the cloud. It also means converting enterprise IT spending to a consumption-based model. But getting there can be a bit tricky. While these new cloud-based enterprise systems include workload applications, they also require changes in the supporting compute, data storage and networking resources.
Changes are also required to the operations processes, tools and methodologies. Challenges often arise when organizations don't factor in static and dynamic system dependencies. Even after a successful migration, cloud-based system resources and organizational processes are often not optimized to fully gain the expected benefits of the cloud. Many cloud migrations stall, fail and result in the repatriation of workloads back to the data center due to these non-optimized cloud systems.
People
Our team has cloud migration expertise on moving applications to AWS cloud and holds advanced AWS certifications.
Technology
We bring specific AWS capabilities such as Infrastructure as Code and our migration factory to quickly move applications from development to testing to deployment.
Process
We bring proven enterprise migration processes, best practices and a maturity model that outlines the full process for migrating to AWS cloud. We have successfully applied this process to numerous government customers across federal civilian, defense and intelligence agencies.
Culture change
As part of our migration methodology we bring new tools and technologies that require managing a culture shift. Peraton has worked with our customers' senior leaders to drive the culture shift to cloud from the top down—built on trust and collaboration—that development and operations undertake together.
The Peraton Cloud Migration Methodology
Peraton's methodology is to take an enterprise approach to cloud migration.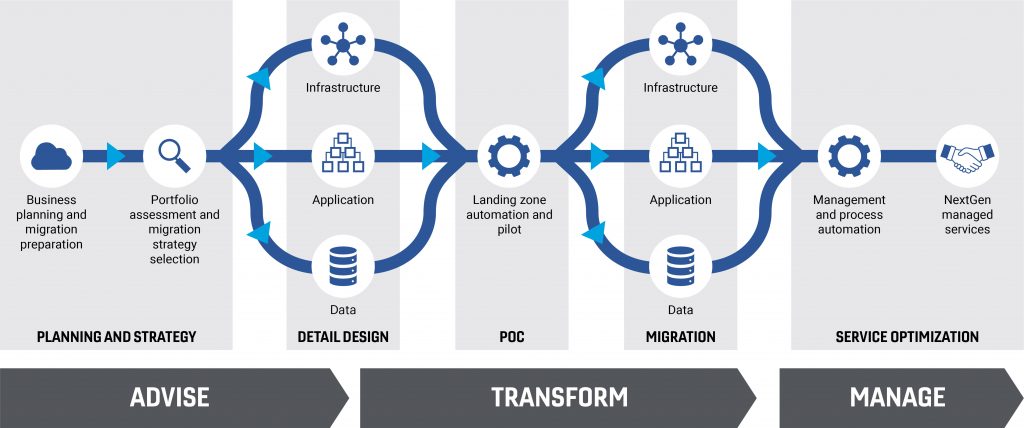 Customer success
Taking an enterprise approach to cloud migration ensures that migrations to the cloud are grounded in all aspects of the customer environment. We have successfully applied our process for the following customers:
CASE STUDY
Case Management Solution
Peraton successfully helped an agency migrate to the AWS Cloud and adopt a cloud-native microservices architecture that enhanced customer experience, reduced application downtime, and improved performance.
CASE STUDY
NBIS Program Executive Office (PEO)
The Peraton team was successful in helping the NBIS PEO replace an unsustainable personnel vetting process and a suite of legacy background investigation and case management IT systems with a single, unified system.
CASE STUDY
U.S. Army
TAMIS
Peraton's approach allowed the Army to gain the immediate benefits of an improved security posture, increased performance, and reduced operating costs for the program in parallel with the cloud development activities.