Kirchoff celebrated for unwavering dedication to NASA missions, support for women and minorities in STEM workforce
HERNDON, VA — October 23, 2019 – Women in Aerospace (WIA), a leading professional organization dedicated to expanding women's opportunities for leadership, education and visibility in the aerospace community, has honored Ronna Kirchoff, Peraton's vice president of Civil Space programs, for her contributions to the aerospace industry and advancement of women in the field.
Kirchoff—one of five women recognized on Oct. 17—received the 2019 Outstanding Achievement Award in recognition of her commitment to advancing NASA missions and for championing underrepresented women and minorities in Science, Technology, Engineering and Math (STEM) careers.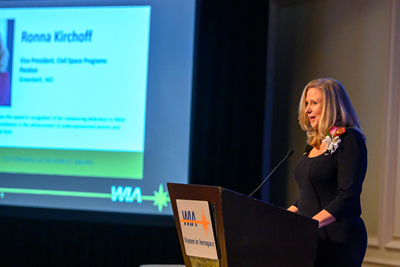 Roger Mason, president of Peraton's Space, Intelligence and Cyber sector, noted in support of her nomination, "Throughout the years I've known her, Ronna's outstanding leadership skills, passion for the mission, and dedication to the mentorship and advancement of women and minorities in the industry have been inspiring."
Kirchoff is a prime example of Peraton's deep commitment to providing optimal support to our NASA partners on missions critical to advancing our knowledge of the Earth and beyond—where flawless execution is an imperative. Leading a staff of nearly 1,000 across multiple space communications programs, Kirchoff's 30-plus years of expertise is evident in her teams' consistent satisfaction of numerous business and customer demands, resulting in performance excellence.
One illustration of Kirchoff's impact is found in NASA's Space Network program, which provides continuous radio communications coverage for spacecraft in low Earth orbit, including the International Space Station (ISS). Her team helped NASA achieve its goal of doubling the station's communications capabilities to deliver higher data rates and improved coverage, expanding explorers' and scientists' access to vital research data. As Kirchoff observed, "In today's highly data-rate-reliant environment, the thirst for knowledge and data-driven solutions that can improve our life on Earth and human exploration well beyond low Earth orbit exists now more than ever. The successful implementation of the ISS 600 Mbps Upgrade Project provides an incredible opportunity to advance science in the world-wide community. The increased ISS data rate allows more complex experiments to be developed by children participating in STEM educational projects and organizations. The ISS Upgrade is an example of a highly motivated team applying advanced technology and innovative solutions that can enable significant opportunities for discovery to our worldwide community."
As a respected manager, Kirchoff is quick to recognize the achievements of her staff, empowering their creativity while challenging them to bring innovation and efficiency to the NASA missions they support. She personally devotes her time to mentoring rising leaders, and is passionate about elevating diversity, focusing on the advancement of women and minorities. She champions providing interns from Historically Black Colleges and Universities with meaningful work engagements that result in tangible job opportunities. Moreover, she is committed to small business partnerships, continually seeking ways to integrate niche capabilities that advance customers' missions.
In accepting her Outstanding Achievement Award, Kirchoff told the WIA audience, "I have a rock-star team. I wouldn't be here today if I didn't have this incredible, committed, quality-focused team. They truly come to the table every day pursuing success. I am very proud to be the leader of this team." She further noted, "My family has been the ultimate mentor. Education, dedication, hard work and sacrifice formed the foundation of our family."
She concluded her acceptance speech by noting that, "Everyone here is a role model, and that's an important thing. I'd like to empower the room to think about that—you are a role model, and you can have an incredible impact on others' lives."
---
About Peraton
Peraton provides innovative, reliable solutions to the nation's most sensitive and mission-critical programs and systems. As a trusted provider of highly differentiated space, intelligence, cyber, defense, homeland security, and communications capabilities, Peraton is a critical partner to the Intelligence Community, Department of Defense, and select federal agencies and commercial entities. Headquartered in Herndon, Virginia, the company employs 3,500 people across the U.S. and Canada. Visit Peraton.com/News and follow @PeratonCorp on Twitter for news and updates.
Media Contact
Brian Wagner
Director of Strategic Communications
(703) 668-6541
bwagne01@peraton.com